2018 Annual Report
Storied Past
Promising Future
Though we live in an increasingly uncertain world, community support continues to make the future of KNKX a promising one. The collective investment of KNKX listeners ensures that a Northwest public media source remains to make the world a little less uncertain, for there is no replacement for the local and NPR reporting that offers perspective on the issues of the day. There is no substitute for the jazz and blues that remind us that beauty and creativity still prevail.
There's nothing that connects us to humanity like hearing diverse voices, as they share their stories of joy, sorrow, hardship and vulnerability.
Forces that help us connect and better understand each other in meaningful ways have never been more important – or more under threat. Your support gives KNKX the resources to thrive and grow when it matters most. Everything contained in this Fiscal Year 2018 Annual Report was made possible by the enduring generosity of YOU - our listening community. Thank you!
To see a downloadable version of this report, click here.
KNKX delivers excellence in jazz, blues and news with stories that inspire, inform and connect our community.
Leadership
Board of Directors
Stephen Tan
Claire Grace
David Veterane
Joey Cohn
Keith Seinfeld
Gayle McIntosh
Scott Ahlsmith
John Teutsch
David Deacon-Joyner
My Le Goel
Community Advisory Council
M.E. Peg Achterman
Michael Armstrong
Donald G. Arsenault, CCIM
Jim Burbidge
Rudy Castillo
John W. Comerford
Greg Dallaire
Paulette De Coriolis
Dave Ellgen
Linda Farmer
Alex Fryer
Bob Hirsch
Henry Izumizaki
Stacey Isaacs
Jeanne Juneau
Jim Long
Lloyd Mildon
Brian Pearson
Lyn Quitslund
Cary Retlin
Fred Seidel
David Sturtevant
Paul Taylor
Joan Tornow
John Woltjer
Building Community
This community is the backbone of the station, a constant and enduring inspiration in the stories we tell and the music we play. In Fiscal Year 2018, we made creating opportunities to personally connect with our listeners a priority. Whether that connection was forged by hosting live performances, direct interactions at local festivals, or simply the magic of 700 public radio fans occupying a single room, all joined by a common love – KNKX – community events were, and will continue to be, a powerful link to listeners throughout the Puget Sound region.
"I appreciate that you give a voice and represent the smaller communities in our state every day. Your coverage of our region as a whole is both important and unique."
David
Seattle
"You are such a big part of my life whether at home, on the road or even at Camp Muir where I work as a climbing guide. KNKX and NPR are always near and dear. Thanks for being there for us!"
Brent
Enumclaw
News & Information
The relentless pace of news this year had audiences turning to public media seeking clarity and context on events that are shaping the direction of our country. KNKX brought you national and international news from the reliable voices of NPR and gave a regional perspective from our own team of journalists. Tackling subjects at the heart of current civil discourse – gun control, homelessness, the opioid epidemic, immigration, and much more – KNKX gives you the information you need to make informed opinions without the sensationalism experienced through many other news sources.
Big Stories & Breaking News
Fiscal Year 2018 was packed with stories of consequence. News from the White House, the #MeToo movement, a slew of punishing natural disasters and heartbreaking school shootings – one story followed the next at a dogged rate. Because of this, it's impossible to mention every major or breaking news story of the year, but it's worth remembering some of these stories that directly impacted you and our region. You gathered together to marvel at a once-in-a-lifetime, solar eclipse. You saw democracy in action at numerous civil protests, including the Seattle March for Our Lives and the Women's March. You went to polls during November elections, an informed voter and ready to do your civic duty. You shared in the tragedy of the DuPont Amtrak crash. KNKX reporters and our partners at the Northwest News Network were on site bringing you the facts and the context of every story.
Return To The Salish Sea
Environment reporter, Bellamy Pailthorp's 15-part series on the Salish Sea region presented the voices of this remarkable place, revealing the pride and wonder residents associate with their home and the precipice on which this ecosystem stands as it faces the consequences of human enterprise.

See the project here.
"I am a high school teacher and use the KNKX and NPR articles that I hear on KNKX on a monthly basis. I appreciate and love hearing the reporting on my commute each day."
Sara
Bothell
"My family's radios are permanently tuned to KNKX. We value the in-depth local stories and Bellamy Pailthorp's series on the Salish Sea is extraordinary."
Wendy
Seattle
"I listen to and from work. I especially appreciate news that goes beyond sound bites and sensationalism. Now more than ever we need respectful thoughtful journalism and civility. You are a daily lesson on what public discourse sounds like."
LeAnne
Lake Forest Park
"Access to information is critical to successfully navigating the world we live in. KNKX provides fair and meaningful news coverage people need to make good decisions about issues impacting their lives."
Paul
Tacoma
New Shows
In October 2017, we introduced four new national shows and one rebroadcast of our own weekly tour of ideas, Sound Effect, to the weekday lineup. These new shows capture your mind and your heart as they feature diverse voices and stories on a multitude of subjects – including business, science, spirituality, culture and current events.
Tuesdays @ 7PM
On Hidden Brain, Shankar Vedantam masterfully combines science and storytelling to help you better understand the world, current events, and yourself.
Wednesdays @ 7PM
Host Krista Tippett talks to scientists, writers, and big thinkers about the animating questions at the center of human life: What does it mean to be human, and how do we want to live?
Thursdays @ 7PM
Two perfectly paired podcasts, How I Built This and Planet Money, investigate business, the economy and the world of finance with NPR's characteristic curiosity and depth.
Fridays @ 7PM
Engaging host, Sam Sanders, discusses current events through the lenses of expertise and empathy on It's Been A Minute.
Sound Effect
Sound Effect is now in its fourth year of sharing voices and stories of the Puget Sound region. Under the guidance of a common weekly theme, seemingly no subject is off-limits to host Gabriel Spitzer and the award-winning Sound Effect team. Raccoons in Point Defiance Park, volcano preparedness, the origins of sci-fi classic Dune - the experiences of a neighbor, a co-worker, a friend – the potential for storytelling is endless. At its center, Sound Effect is about revealing our humanity and the stories that compose the rich cultural fabric of the place we live.
40
New Episodes Of Sound Effect
— Stories Of Note —
4,178,937
New Views On YouTube
Jazz & Blues
Nothing begs for the solace of jazz and blues like the social and political chaos surrounding us every day. In Fiscal Year 2018, you turned to KNKX for the joy, the magic, and the escape that music provides. When you tuned in to KNKX for daily musical inspiration, you found old friends who have created the soundtrack to your life and brand new artists who are forging the future of jazz and blues.
Jazz24
KNKX is dedicated to jazz in our region, but we also feel a responsibility to make sure this music flourishes around the U.S. and internationally. That's where Jazz24 comes in. Our 24-hour online jazz stream, found at jazz24.org reaches nearly 300,000 listeners per month in every corner of the globe. Like KNKX, Jazz24 music is thoughtfully-selected and curated by the KNKX Music Director and hosted by your favorite KNKX hosts.
Live Studio Sessions
Studio Sessions graced the KNKX airwaves at least once per week in Fiscal Year 2018, expanding on the recorded tracks in our playlist and infusing our music mix with the energy, innovations and diverse perspectives of today's jazz and blues artists. With legendary musicians like Arturo Sandoval, blues masters like Marcia Ball, regional stars like The Rumba Kings and Bill Anschell, and New Cool favorites like the Polyrhythmics and GoGo Penguin – our Studio Sessions offer the variety and depth characteristic of the music you find on KNKX.
Regional Spotlight
The vital jazz scene of the Pacific Northwest is alive and well for all to hear on KNKX. We are located in the center of a thriving jazz ecosystem which presents numerous opportunities to feature and nurture our colorful regional music scene. In Fiscal Year 2018, more than half of our Live Studio Sessions featured Northwest-based musicians. We programmed showcases at regional festivals such as Victoria Jazz Fest and Northwest Folklife. We sponsored free public concerts with Holiday Jam, the Ballard Locks, and lokalfest, so that anyone looking for a bit of inspiration could enjoy the pleasures of live jazz and learn about local artists.
"Whenever I pick up my horn, I feel like I am able to channel everything in my mind to one point, and then I just let go. I love jazz, and am happiest when I'm playing and working with others to make great music."
George
Roosevelt HS
"I love how jazz acts as a common language for people to connect."
Kyle
Edmonds-Woodway HS
"[Jazz] lets you…express yourself through your instrument in a way that I'm not sure many other genres of music would allow."
Alli
SAAS
"When it came to the time when I had to focus on either jazz or classical music, I chose jazz because of the freedom it gives, the dance-enticing groove, and the joy it brings when you play."
Marianna
Bellevue HS
School Of Jazz
Now in its 13th year, KNKX's School of Jazz, is one of our most beloved and impactful programs. The program has evolved in the course of serving over 3,000 students, mentors, and educators, but the inherent thrill watching these young musicians learn and express themselves through music has never wavered. In Fiscal Year 2018, KNKX continued to connect local middle school, high school, and college jazz ensembles with professional musician mentors, culminating in featured Live Studio Session performances
Seattle Jazz ED
One of the most electrifying Studio Sessions of the year arrived when we welcomed 28 Seattle JazzED students through our doors, and let's face it, into our hearts. Led by mentors, trumpeter Riley Mulkerkar of The Westerlies and drummer Sammy Miller, the Seattle JazzED invasion was unforgettable!
Student DJs
Along with offering performance opportunities, School of Jazz also invites one student DJ per month to program an hour of Evening Jazz with Abe Beeson. Tracklists including everything from Miles Davis to Snarky Puppy abound as does a palpable enthusiasm for the music these students love.
financials
The financials detailed here reflect income and expenses incurred from June 1, 2017 to May 31, 2018.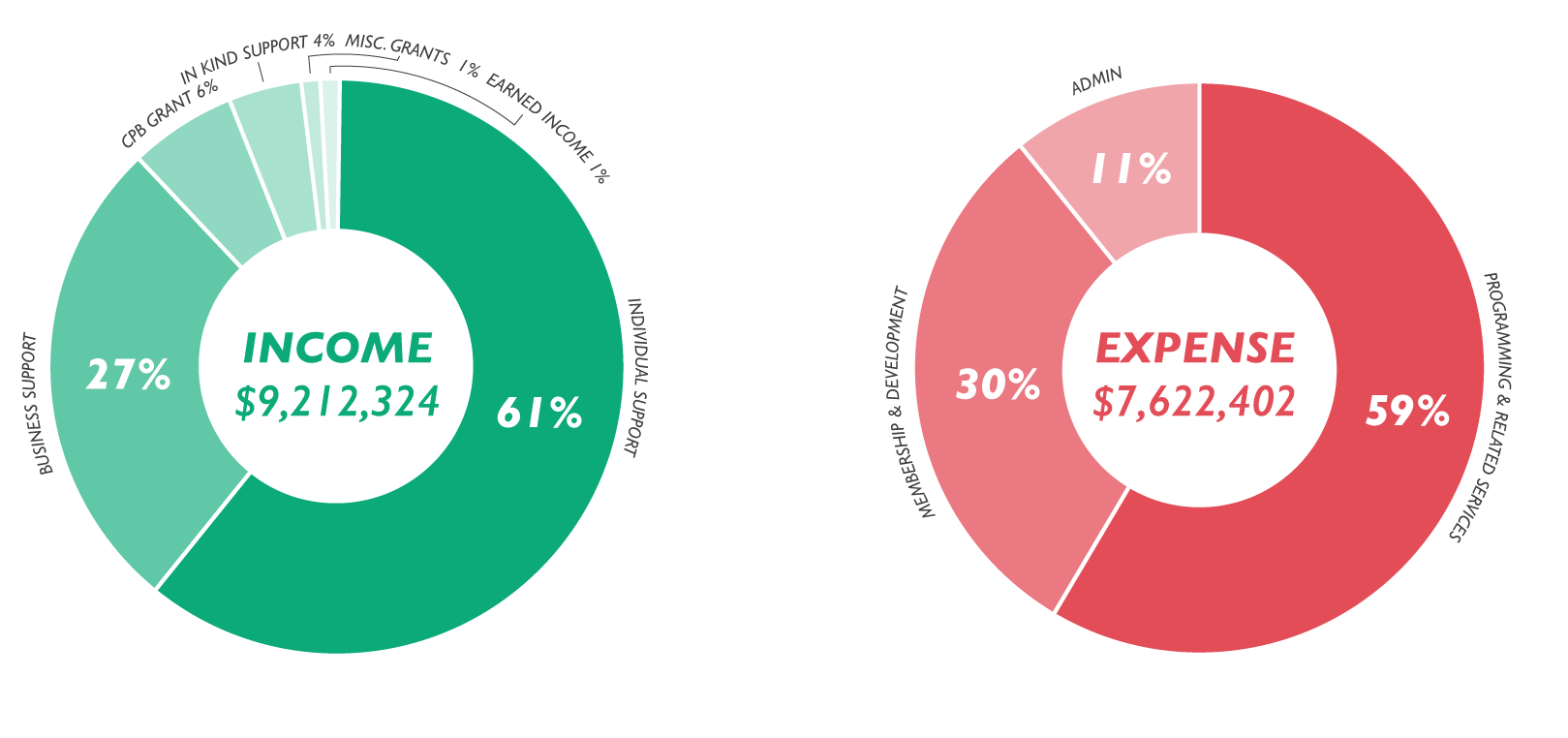 Income
61%
Listener
Support
$5,596,739
Gifts from individual listeners are KNKX's single largest source of support.
27%
Business
Support
$2,499,198
Business support, or underwriting, makes up the second largest portion of the budget.
6%
CPB
Grant
$545,776
This revenue comes from the annual Corporation for Public Broadcasting grant.
4%
In-Kind
$395,733
As a qualifying nonprofit, KNKX received a Google Ad Grant to promote Jazz24 around the world. This grant constitutes the majority of in-kind support in Fiscal Year 2018.
1%
Miscellaneous
$120,027
In Fiscal Year 2018, miscellaneous grants revenue included restricted funding for the KNKX Connects live broadcast series.
1%
Earned
Income
$93,898
Jazz24 syndication revenue is our primary source of earned income, as fellow public radio affiliates carry the programming, thus bringing jazz to communities that don't have the music genre on their local stations.
Expense
59%
Programming
$4,474,167
Programming costs make up the largest portion of KNKX's budget. These include fees paid for NPR content, internal production costs for local stories, licensing fees for jazz and blues, and investment in the infrastructure required to deliver jazz, blues and news on the air and digitally.
30%
Membership &
Development
$2,333,246
Membership & Development expenses represent costs related to KNKX fundraising, marketing and business support operations. These departments generate the majority of income needed to keep the station operational.
11%
Administration
$814,988
Administrative expenses are those costs needed to maintain daily operations, such as human resources, facility rental and office supplies. They represent the smallest portion of the KNKX budget.
Thank You!
KNKX would not have been able to accomplish anything described in this Annual Report without the board, staff and volunteers on our frontlines, the thousands of donors and over 300 businesses that believe public media is important and worth supporting. Each one of you played a part in making fiscal year 2018 a success. With your continued investment a promising future awaits KNKX. Thank you!
You can make more amazing jazz, blues, and news possible with your annual support in Fiscal Year 2019!
Visit KNKX.org or call 877-677-5658 to make a gift.
"My daughters grew up listening and now as parents they listen too. I love the new programs and my old favorites! KNKX just keeps getting better!"
Linda
Olympia
"I am so grateful to have KNKX available to me. Each of you on the air and behind the scenes are doing a fantastic, creative, thorough, imaginative job and I thank you for that."
C.J.
Seattle
"I recently moved back to Seattle after living in NYC for close to a decade, and as I am reacquainting myself with KNKX I am realizing what a great civic resource it is for our community. Thank you for really caring about your listeners!"
Stephanie
Seattle
"You are the soundtrack to our lives! Thank you for your diligent reporting and captivating storytelling."
Kori
Bellingham
"This station been a trusted companion through the most difficult times of my life...I'm thrilled to help provide the kind of stability that KNKX has given me over the years."
Travis
Olympia