Skip To Content


2017 Annual Report
Thank You
Tacoma

Seattle

Bellingham

Issaquah

Fife

Olympia

Bellevue

Renton

Bremerton

Victoria

Tukwila

Everett

Portland

Puyallup

Bothell

Redmond

Vancouver

Victoria
It's impossible to begin talking about KNKX this year without first acknowledging the adventures and ultimate triumph of the Save KPLU campaign.
All of the accomplishments detailed in this Fiscal Year 2017 Annual Report were made possible by the resounding voices, tireless actions, and generous donations our community poured into making the very existence of KNKX possible. During a historic grassroots campaign, 21,000 individuals cobbled together $8 million in just six months to purchase our broadcasting license and provide the station with critical start-up funding. KPLU officially became KNKX, your independent community station, on August 31, 2016.
The story of KNKX demonstrates the power of community; the power of individuals coming together with one goal and reaching seemingly impossible heights. It's a story that embodies the essence of our community at its best.
In the years to come, we will constantly work to honor the generosity and enthusiasm that the Save KPLU campaign ignited.
Thank you to all who made the dream of KNKX a reality!
To see a downloadable version of this report, click here.
"KNKX delivers excellence in jazz,
blues and news with stories that inspire,
inform and connect our community."
This year, newly independent KNKX took the opportunity to consider who we are as a community station, reconciling a 50-year legacy and a reinvigorated vision for the future. With a refreshed mission statement and clearly defined core values, KNKX seeks to foster an empathetic and educated community in which compassion, lifelong learning and finding joy and necessity in the arts are paramount.
Storytelling
With a wealth of original production, KNKX differentiates itself as a leader in bringing context along with its content.
Community
We are a community licensed station. We seek to inspire, educate and entertain our audience by reflecting our local community.
Innovation
We're committed to continuing to innovate so people from our region and beyond can access jazz, blues and news through KNKX.
Connection
Deep, relevant music and news depends on the voices of our community. We're connected to our community through our events and our people. That connection is at the forefront of our minds.
Leadership
Board of Directors
Stephen Tan
Claire Grace
David Veterane
Joey Cohn
Marilyn Strickland
Keith Seinfeld
Gayle McIntosh
Scott Ahlsmith
John Teutsch
David Deacon-Joyner
Community Advisory Council
M.E. Peg Achterman
Michael Armstrong
Donald G. Arsenault, CCIM
Jim Burbidge
Rudy Castillo
John W. Comerford
Greg Dallaire
David Deacon-Joyner
Dave Ellgen
Linda Farmer
Alex Fryer
Bob Hirsch
Stacey Isaacs
Henry Izumizaki
Jeanne Juneau
Jim Long
Robert Lovely
Carol MacKinnon
Lloyd Mildon
Brian Pearson
Lyn Quitslund
Cary Retlin
Shawn Richardson
Fred Seidel
David Sturtevant
Paul Taylor
Joan Tornow
John Woltjer
FY2017 In Numbers
192,661
Average monthly visitors to KNKX online
297,900
Average weekly KNKX listeners
7,233
NPR One users who call KNKX their station
100
Students impacted by School Of Jazz
34
Episodes of Sound Effect
5,200
Hours of Jazz & Blues music
3,464,546
Views on YouTube
1,800
Locally produced news stories
News Coverage
Fiscal Year 2017 is one that highlighted why news on KNKX is so essential. With thoughtful and balanced coverage from our own team of journalists, the Northwest News Network, and NPR, the news you hear and support on KNKX helps you make sense of the unpredictable and unrelenting state of current events that affect our world, country and local communities.
Sound Effect
Sound Effect is celebrating more than two years and over 100 episodes of touring ideas, inspired by the Puget Sound region. The Sound Effect team takes a deeper look at the unique stories of our Northwest home, finding extraordinary insights in everyday life.
— Episodes Of Note —
Black History Month
In honor of Black History Month, we teamed up with the women behind the "Hella Black Hella Seattle" podcast to tell stories of black history in the Northwest.
Suicide Behind Bars
In collaboration with Olympia correspondent, Austin Jenkins, we brought you an investigative look into the spike in prison suicides here in Washington State.
100th Episode
We took inspiration from the number 100 to celebrate the 100th episode of Sound Effect. In this milestone episode we explored the stories behind Northwest businesses with the address Suite 100, including a brewery, a methadone clinic, and a volcano observatory.
Jazz & Blues
KNKX remains one of the few stations that continues to share a wealth of expertly curated jazz and blues with a mass audience, both here in the Northwest and around the world on Jazz24. Recordings from classic giants like Ella Fitzgerald and Miles Davis, modern superstars like Gregory Porter and John Scofield, leading innovators like Snarky Puppy and Northwest favorite, Industrial Revelation - and everything in between - expose listeners to a whole world of eclectic music.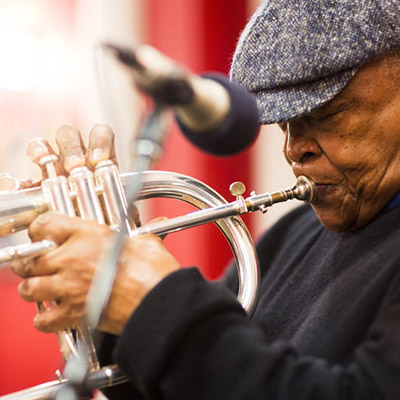 Studio Sessions
Last year, we hosted 62 Studio Sessions. These live performances punctuated by engaging conversation with one of our resident music hosts, are a signature part of our service to the jazz and blues community. Notable visiting artists included ukulele master Jake Shimabukuro, the legendary Hugh Masekela, and award-winning vocalist, Catherine Russell.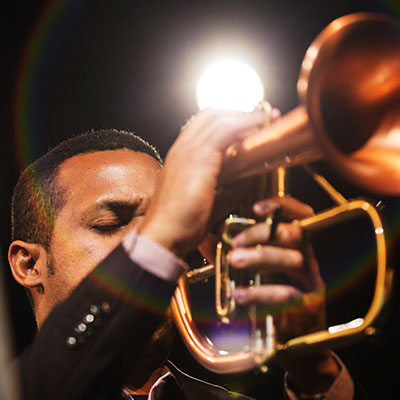 Jazz Caliente
We launched a new music show on Saturdays where jazz meets Afro-Cuban, Afro-Brazilian, Puerto Rican, and Pan-American rhythms. A lively tour of the diverse world of Latin Jazz hosted by Robin Lloyd.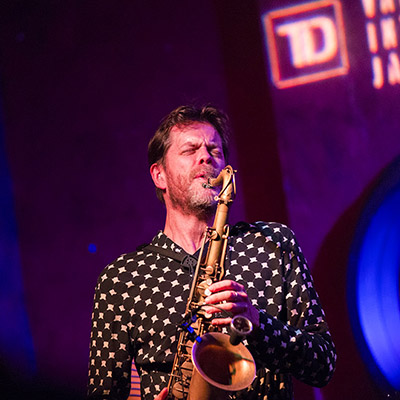 The New Cool
The future of jazz has arrived, with 21st century jazz inspired and informed by the sounds of today: hip-hop, funk, EDM, and punk rock. Hosted by KNKX veteran, Abe Beeson.
School Of Jazz
The cultural experiences we have when we're young often become the most memorable and formative in our lives. To create such experiences, KNKX looks to connect young jazz musicians with opportunities for music discovery through an award-winning education program, School of Jazz. Now in its 13th year, School of Jazz helps local jazz students cultivate their skills and their love of music through collaborations with music professionals in our region. In the years ahead, KNKX strives to expand School of Jazz to provide one-of-a-kind learning and performance experiences to even more students, both in our studios and live "on location" in the schools.
———————————————————
Dimitrio Neri
Mountlake Terrance High School
"Jazz is unlike any other form of music because it is almost like a universal language, where anybody can play with a group of people and completely understand each other through the music that they create together. That's why I love jazz."
Shelby Archer
Newport High School
"Jazz is inclusive and endless..."
Anton Bingham
Shorecrest High School
"Jazz is a means of connecting to others through self-expression in music."
Mairead Rising
Glacier Peak High School
"I have a connection with jazz because of the emotion it evokes. The fact that it is felt and not scripted makes the music so much more powerful."
Student DJs
School of Jazz also invites one young jazz fan per month to take over the mic as a guest DJ and curate a playlist for Evening Jazz. The enthusiasm these students feel for jazz is contagious, as they discuss their favorite songs and why they love this style of music with inspiring, and often wise, insights.
School of Jazz
Arranging mentorships for middle school, high school, and college jazz students is the foundation on which School of Jazz rests. These experiences culminate with a live on-air performance during one of our signature Studio Sessions. In Fiscal Year 2017, KNKX welcomed 70 young musicians into our Seattle studios for this unique experience to share their musical talents with KNKX listeners, on the radio and online.
financials
The financials detailed here reflect income and expenses incurred
from KNKX's independence day, August 31, 2016 through May 2017.
Want the nitty gritty?
Our first fiscal year as an independent station resulted in a $1.7 million reserve. That money was crucial as we were essentially a "start up" and needed immediate cash flow as an independent station. The reserve also gave us a start on rebuilding the cash and endowment we lost in the sale of the station.
Income
66%
Listener
Support
$4,343,298
Gifts from individual listeners are KNKX's single largest source of support.
27%
Business
Support
$1,821,682
Business support, or underwriting, makes up the second largest portion of the budget.
6%
CPB
Grant
$372,546
This revenue comes from the annual Corporation for Public Broadcasting grant.
1%
Earned
Income
$93,898
Jazz24 syndication revenue is our primary source of earned income.
.6%
MISC.
Grants
$45,000
Grants revenue represents a relatively small portion of the KNKX budget and has potential for growth in the coming years.
Expenses
60%
Programming
$3,037,784
Programming costs make up the largest portion of KNKX's budget. These include fees paid for NPR content, internal production costs for local stories, licensing fees for jazz and blues, and investment in the infrastructure required to deliver jazz, blues and news on the air and digitally.
28%
Membership &
Development
$1,385,475
Membership & Development expenses represent costs related to KNKX fundraising, marketing and business support operations. These departments generate the majority of income needed to keep the station operational.
12%
Administration
$603,423
Administrative expenses are those costs needed to maintain daily operations, such as human resources, facility rental and office supplies. They represent the smallest portion of the KNKX budget.
Thank You!
Sharing listener comments during pledge drives is a public radio tradition. In that spirit, here are comments from some of our most enthusiastic members. Support from listeners like these, keeps your connection to jazz, blues, and NPR news going strong. Thank you to the 22,800 individual KNKX donors for making all of this possible in Fiscal Year 2017!